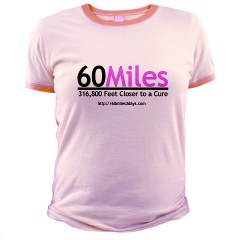 I know that through most of the year, I ask people for some sort of help with donations to help raise money for the Susan G. Komen 3-Day for the Cure.  This time is a little different, I'm still asking for help, but this time it is a little brain power help that I need!
So here's the situation.  As most of you know, I'm the Energizer® Keep Going® Blogger for the DFW 3-Day.  Some may also know that as the result of one of my fund raisers earlier this year, I have promised my donors that I will wear a bra all three days of the walk.  Everything is great except for one thing.  Energizer sent me a pretty cool t-shirt so that I could wear it on the walk so that while I'm walking people would know that I'm the Keep Going Blogger.  Good stuff and I am very happy at the prospect of being able to wear it.  The problem is that when I wear the bra you can't see the logo on the shirt and to be honest, I'll probably end up wearing only the bra and not a shirt.  I still want people to know that I am the Keep Going Blogger, it's something I'm very proud of, but I also need to honor the promise I made to donors.  This is where you come in!
Please send me suggestions on how I can visually promote that I'm the Keep Going Blogger (using the logo that you can see on the right side of this page) without changing the fact that I need to wear just the bra.  The only thing I have tried so far is an at home t-shirt transfer kit and the curve of the bra just made it look like a cheap sticker when I put the logo on it.  So other than that, any suggestion is fair game.  If you have an idea, click "Contact" at the top of this page and send me an e-mail with your suggestion!  If your suggestion is chosen then you will win a 60Miles t-shirt, one of the shirt styles is pictured in this post, but any of the shirts at http://www.cafepress.com/offensive1/7285557 can be chosen if you win.  If your idea is the winning idea and other people have suggested it, I'll do a random drawing to award the prize, but I will mention everyone's name that suggested it on a post on 60miles3Days.com
Thanks for all your help!  Get those creative juices flowing!!  If you have multiple great ideas, please feel free to submit multiple entries, but try to keep one idea per mail just so I can sort out the individual ideas easier.